Anita Van Zwieten - Research Assistant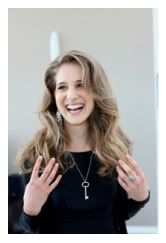 Contact details
Email: anita.vanzwieten@sydney.edu.au
Phone: +61 2 9351 0808
Postal Address: BMRI, 100 Mallet Street, Camperdown 2050
Profile
I graduated from a Bachelor of Psychology at Sydney University with First Class Honours in 2011. At the moment, I work as a Research Assistant in the Autism Clinic for Translational Research (ACTr). My role is diverse and challenging, which I love because I have an inquisitive mind and am most content when I'm constantly gaining new skills and knowledge.
My tasks range from writing clinical trial protocols and ethics applications and liaising with potential participants for our current research studies, to completing grant applications requesting funding for future studies from national and international organisations like the Australian Research Council and National Health and Medical Research Council, to assisting with data analysis and write-up of research projects conducted by Associate Professor Guastella for publication in book chapters and journal articles.
My research interests are very broad, but I am particularly interested in the identification of what we call "markers" of mental illness. That is, I am interested in investigating which neurobiological, cognitive, genetic, and psychological variables we can use to predict who will suffer from different types of mental illnesses, who will respond positively to treatments for mental illness, and who will need specialised interventions to recover. I am also interested in working out which factors make some people more psychologically resilient (that is, more able to endure stress or recover after being in placed under pressure in negative situations), and how we can promote the development of those factors in children and adolescents before they develop mental illnesses. I am also fascinated by social cognition (our ability to process, store and use information about other people in social situations), and with Adam I have had the opportunity to investigate the ways that it is involved in a variety of mental illnesses such as social anxiety, autism and schizophrenia. Last year we wrote and submitted two papers looking at social cognition in youth mental health treatment seeking populations, along with Daniel Hermens, Ian Hickie and the other members of the Youth Mental Health team here at the BMRI.
I would love to hear from you - if you're interested in talking more about our autism research or our broader goals in looking at the role of social cognition and behaviour in mental illness, please get in touch with me via email.